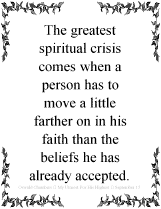 Oswald Chambers book, My Utmost for His Highest, was originally published by his wife in 1927 after his death in 1917. It is a compilation of excerpts from lectures and talks he gave during his 43 years of service on this earth and stands the test of time as a powerful and insightful daily scripture devotional. When I first ran across the statement above I thought, "Wow! That's really deep". As I've learned what it means to live in the reality of that thought over the years I can look back and see that I had no idea (nor do I yet have any) of just how deep and true it is.
Everyone has a measure of faith. I don't know of anyone who goes to the light switch saying, "I hope this works but it probably won't, at least not for me". No, we flick that switch having faith that the light will turn on. At least most of us do unless we haven't paid the power bill or something. This type of faith rests in the fact that if we do something, something else will happen. We've seen it enough times to believe in it.
What about faith in something or, more importantly, someone who we can't see? What about faith that says, "No matter what happens I am going to trust in God". What sort of faith did Abraham have to move a little farther on in when he was told to take Isaac and sacrifice him? And what about Moses? Don't you imagine that the Red Sea, Mountains, and Egyptians made for a pretty sizable spiritual crisis? Here comes the entire Egyptian army and all he's got is a big stick! When, at God's direction, Moses raised his staff it must have seemed impossible that it would accomplish anything, but he did it - in faith, and we know the rest of the story.
The kind of faith that these men knew goes beyond anything that most of us are ever going to be tested in but it is the kind of faith that is essential if we are to ever grow in our relationship with God - "go to the next level", as my friend Terry puts it. It's an unwavering belief that there is a God who is in control of everything. A "big G" God who not only holds the planets and stars in place in the universe, but is also intently interested in the smallest detail of each of our lives. Faith that suffers through what seems to be the injustices and hardships in life and comes out the other side stronger and more steadfast than ever.
But without faith it is impossible to please Him, for he who comes to God must believe that He is, and that He is a rewarder of those who diligently seek Him. Hebrews 11:6